Venice, often referred to as "the floating city", is actually an archipelago made up of 118 islands and over 400 bridges. It likely rivals Paris alone in folklore as "the most romantic city in the world". It has also been ranked as "the most beautiful city in the world" and is undoubtedly an Italian icon.
"Venice without water would be nothing, but water without Venice would just be water."

– Francesco the Viator Tour Guide
Article Summary:
Visions of Venice
Is there a single human alive that hasn't heard of the floating city of Venice? With its waterway canals in place of paved streets as seen in the rest of the modern world? Come to think of it, I can't think of a single person that I've ever spoken to about travel that didn't have Venice somewhere on their bucket list. This is especially true with women, unsurprisingly. It should also come as no surprise then that Venice has provided some of our most liked Instagram photos as well, such as this one:
You may think you've heard it all before regarding the floating city, but in the name of turning pre-conceived notions on their head, we hope to dispel a few common myths about Venice, as well as undo some of the over-hyping of this famed destination. For starters, JJ and I actually arrived to "the floating city" by train from Florence. We'll give you a brief moment to let that sink in 😏.
The Flooded, Sinking City?
Speaking of sinking, did you know that Venice is essentially floating on top of about 6 meters of mud and sand, that rests on top of another layer of hard clay? During seasonal high tides, the city can be easily flooded. There are even ground floors in some of the city's oldest buildings that are now uninhabitable due to permanent flooding. Thanks to that fickle foundation of sand and mud, everything is always moving, and plenty of structures are "visibly leaning", such as the bell towers of the Plaza San Marco for example.
Much of this geographic trouble can be attributed to the fact that Venice's lagoon is very shallow. The same conditions that are causing this iconic place to sink, have also been the key to Venice's historical prominence. Venice is a medieval city, with no fortified walls, but it has miraculously never been attacked in over 1,100 years. It's shallow lagoon has always served as a natural barrier and defense.
The most comparable destinations to Venice that we have seen, strictly geographically speaking, are Amsterdam and Annecy. Whereas the only other true "archipelago" city or destination we have seen is Stockholm. Still, I think we can collectively agree that Venice is unlike any other place on the planet.
A Structural Engineers Nightmare?
I kept getting this hilarious image in my head, in both Venice and Amsterdam, of my good friend Pancho (a structural engineer whom I've worked with many times, who just so happens to be one of my best friend, Drew's, dad). Pancho's secret weapon in the scientifically complex field of engineering is none other than the highly technical instrument known as a golf ball. That's not a joke or an exaggeration. I've seen him use the golf ball test many times in Texas. Whichever way the ball rolls tells you which way the structure is slanting, and helps identify any areas of a building's foundation that are not level.
Alanis Morissette is somewhere laughing right now about the irony of a man who hates golf with a passion, yet simultaneously never leaves home without a golf ball in his pocket. I kept picturing Pancho pulling his prominent hair out, and making notes, while his magic golf ball would be rolling around like crazy throughout Doge's Palace or Basilica San Marco. Nothing is level. Everything is leaning, or worse, flooding and sinking. Thus, Pancho, and engineers like him, would hate Venice. Poor Jane.
City of Water, City of Bridges, City of Canals, but What's In Those Canals?
Oh, did I happen to mention any specifics pertaining to that famously romantic canal water yet? No? Well here are two uber-romantically fun facts for you:
It's illegal to swim in the canals in Venice.
The canals are where the sewage from all the houses go. 😳
I sh#* you not (pun intended, and sorry mom).
They "claim" that every 12 hours or so, the tide takes the old water out and brings the new water in. Uhuh, Sure it does. Suffice it to say, I bet you never heard Marco Polo bragging to Kublai Kahn about his hometown's sophisticated plumbing systems back in 1275 A.D., that apparently haven't changed much since that time.
Sorry to be the one to let the cat out of the bag on Venice, but that cat is currently drowning in the collective urine water (and worse) of Venice, just praying to either sink down in the mud, or be mercifully washed out to sea, whichever one comes first.
Isn't it Romantic?
Ok, ok, enough reality and enough curmudgeon, grumpy old man realist commentary on Venice, factual or not. The truth is, it IS an unbelievably romantic place, and the best way I can describe it is that you cannot adequately describe it! Venice, like all great destinations and the very nature of travel, has to be experienced to be understood.
You need to take the wrong bridge or alley way, truly let yourself get lost, then find a small cafe with a patio, sit, watch the gondolas go by, and imagine that life has been this way in this place since 697 A.D., or well over 1300 years. If that doesn't sound romantic, or reek of romanticism (as long as you're not smelling the canal water), then I don't know what does. As much as we would like to under-hype it, you really do have to see it with your own eyes to appreciate it and we do believe it is a must visit destination, one unlike any other. Perhaps the most important thing to point out is that Venice, not unlike the Maldives (which we will visit for the first time in November), really is sinking, and may not be around forever. It could be the whimsy of that notion or the whiff of the canal water that keeps people flocking to Venice each year. We'll let you be the judge.
Lest the perceived romanticism of Venice be tarnished any further by this article, our readers will be relieved to hear that although we arrived to the floating city by train (as if in some Harry Potter book) we did leave Venice by boat. The "shuttle bus" to the airport is actually a ferry or water taxi. To our knowledge, Venice's Marco Polo Airport is indeed most easily reachable by boat, a phenomenon we had only previously experienced in Bora Bora. The floating city apparently has a floating airport as well. Isn't that romantic?
Major Sites of Venice:
Doge's Palace
Doge's Palace was the residence of the Doge of Venice. The "Doge" was essentially the elected figure head of the senate of the Republic of Venice. It was established in 1340, and officially became a museum in 1923.
The Bridge of Sighs
Named after the last fleeting glimpse of Venice that prisoner's would see before being sent to their cells in the dungeon, the Bridge of Sighs is only accessible from within Doge's Palace.
Basilica de San Marco (St. Mark's Basilica)
The entire thought and belief behind the Basilica San Marco is that it was originally filled with relics owned by St. Mark (yes, that St. Mark, author of the New Testament gospel), including his actual corpse and remains that were smuggled out of Egypt by Venetian merchants in a barrel of pork fat. St. Mark's corpse and the rest of these items were "acquired" (I.E. stolen) from Alexandria in 828 A.D.
On the interior, 97% of the ceiling is covered in gold mosaic tile. That's roughly 90,000 square feet of tile in total in this unique church. There are no photos allowed, and again, it's so crowded, and you get such limited time inside that we couldn't even stop to talk or listen to our tour guide, Francesco. We had to keep moving literally at all times, but of course tried to do so at the slowest pace possible so we could relish in all the golden relics.
Entrance to the Basilica also grants you access to the small, but noteworthy St. Mark's Museum. Of no small importance is that this is where you can see "The 4 Horses" or "Cavilli di San Marco" in all their original glory.
The 4 Horses "Cavilli di San Marco"
The original 4 horses, which are only viewable in the museum, are over 2,000 years old! That officially makes The 4 Horses the oldest monument, artifact, or piece of art that JJ and I have seen on this year of travel or on any previous trip for that matter. The minbar, at the Badia Palace in Marrakech, would be the next closest at 1,500 years old. Again, these are believed to have been owned by St. Mark.
As with many coveted items in history, these horses were stolen and moved to Constantinople, but Venice eventually got them back. They used to appear on the outside of the Basilica, but due to the theft, the outside ones were replaced by replicas in 1982. Again, the originals are now only viewable inside St. Mark's Museum.
Doge's Palace and St. Mark's Basilica are easily the top and therefore most crowded destination in all of Venice. The lines can get crazy long both inside the Basilica and outside in St. Mark's Plaza.
As such, we always recommend the "skip the line" guided tour that we booked through Viator (Trip Advisor's tour affiliate): Skip the Line: Doge's Palace and St Mark's Basilica Tour
We like Viator because Trip Advisor, their parent company, is basically the most trusted name in travel advice. We also like the convenience of the Mobile Tickets available through Viator's App, that can be added to our iPhone mobile wallets. No printer? No problem.
For travelers on a bare bones budget, or that want to do it on their own for whatever reason, be prepared to wait and go in the heat of the day (about 3:00 PM in Summer) for shorter lines. The line in the morning and before lunch is insanely long. It was much shorter when we walked by at 3:00 P.M., probably because less people are willing wait in that heat. We don't always take tours in places, but you get what you pay for. And rather, you don't get what you don't pay for, which is all of the insider info that only a true Venetian guide can provide.
Plaza San Marco
If Venice has a city center, it has to be the Plaza San Marco. It is easily the busiest and most bustling area of Venice, and is it's true heartbeat. This area houses the extremely crowded entrances to Doge's Palace and St. Mark's Basilica as well as numerous outdoor cafes filled with people at seemingly all hours.
The Plaza is also home to St. Mark's Bell Tower (infamously leaning), and the tallest building in the city at only 100 meters tall.
St. Mark's Clock (24 Hour Clock)
St. Mark's 24 Hour Clock, visible from Plaza San Marco, has Roman Numeral XVIII (18) or 6:00 PM where midnight would be on a normal 12 hour clock. The year also started on March 1 instead of January 1 in early Venetian times. This is yet another gentle reminder that Venetians have always had their own way of doing things. Build a floating city with canals instead of streets? Yep. 24 Hour instead of 12 Hour Clock? You betcha. Start the year in March? Who do they think they are, the IRS? 😉
Rialto Bridge
Rialto Bridge is not only the oldest of the four major bridges across Venice's grand canal, but it is easily the busiest of all the bridges. It is predominantly home to several artisanal jewelry stores.
I don't know if the spirit of Venice swept over me or what, but when JJ found a beautiful hand crafted ring that she loved, I just had to buy it for her. The extremely talented designer of her ring and the "Kryos Venezia" brand was kind enough to pose for a picture.
While the ring "looks" like loose diamonds, it is actually just treated silver. This made for an affordable momento of Venice and the Rialto Bridge for JJ, and provided proof that unlike the Tin Man in the Wizard of Oz, Len may have a heart after-all.
Another interesting landmark on Rialto is the famed mask shop La Bottega Dei Mascareri. This shop has designed masks for several Hollywood movies and celebrities.
T Fondaco Dei Tedeschi – Venice Terrace Rooftop
The T Fondaco Rooftop Terrace is a seemingly lesser known attraction in Venice, but certainly one to put on your radar. It could be lesser known because it's completely free, so no blog or tour company can make money off of it, but that's not how we roll!
T Fondaco Dei Tedeschi is a 4 story mall that is home to the rooftop terrace. The whole setup is honestly sort of odd, come to think of it. There is no restaurant, shop, or seating of any kind on this terrace. It is simply a standing room only, completely open air terrace, located right next to Rialto Bridge, that provides some of the most stunning views of Venice.
The key thing to note is that you must reserve a time slot ahead of time on the T Fondaco Dei Tedeschi website.
• Visits are absolutely free of charge.
• Visits are limited to 15 minutes each.
• The maximum capacity of the Terrace is 70 people. Therefore, we highly suggest that you make a reservation beforehand.
We suggest booking a sunset time slot (the most coveted) at least 1 day in advance as we did. Tell them Len and JJ sent you, then be prepared to laugh at the confused look on their faces.
Gondola Rides
At the low, low price of only 80€ for a 30 minute ride, you can board the gondola of your choosing at virtually any bridge in Venice. JJ and I like to pick and choose our adventures, and we hate buyer's remorse, so we admittedly skipped this famed activity (Remember Rule #3 "You Can't See Everything"). While we don't personally regret that decision at all, as always, we want our readers to have the scoop on what's available to them.
Cicchetti
Chicca-who Chicca-what in the world is Cicchetti? We're glad you asked! The "where" is in Venice (duh). The "what" is Cicchetti (pronounced Chi-que-tty), the most Venetian of all Venetian meals. The best way to describe it is that it is in fact not a meal, but rather a prolonged form of bite-sized snacking. Think tapas in Spain, only the Italian form and potentially cheaper.
As the locals explained to us, rather than anchoring yourself to one location for a traditional sit down meal, the Venetian thing to do is to wander to many different "bacari" or "osterie" (cafes, cicchetti bars, or bistros) and order a Cicchetti snack to go with your drink. Common Cicchetti dishes range from croquetes, to tiny sandwiches, plates of olives or cheeses, mini-seafood offerings, or meats and vegetables on top of small slices of bread. The best part? Cicchetti (plural) or individual Cicchetto (singular or "a single piece") typically cost around 1€. Our tip is to wander the area North of Rialto for multiple bacari and cicchetti options that are less touristy and more off the beaten path.
Len and JJ's Overall Rating:

We Would Definitely Go Back
Fine, I admit it, it IS a romantic place, and it is the birthplace of Marco Polo after all (the explorer, silk road trader, and pool game guy).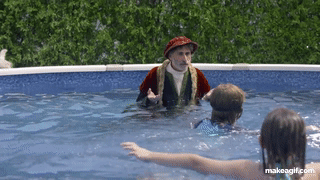 Venice is unlike any other place we've ever visited, and it really is slowly disappearing. If that isn't reason enough to bump it up your destination checklist, then perhaps the surprisingly affordable accommodations and Cicchetti will be.
Our Site may include some Affiliate Links sprinkled in amongst our completely free, and hopefully helpful content. That means we earn a small commission when you purchase or book something (at no additional cost whatsoever) through our links. It's like a beautiful "thank you" to Len and JJ and it doesn't cost you anything! We'll probably spend it on chocolate or a Thai massage.